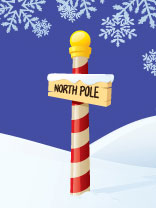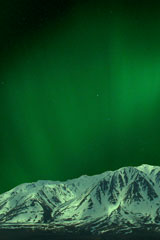 The northern lights explode over a snowy mountain range in Alaska, resulting in a dramatic, green sky. Visitors to the arctic can expect a dramatic environment with powerful extremes. From the mountains to the glaciers, from the foothills to the north pole, visitors can experience everything from snow and ice to majestic mountain ranges, pristine ponds, windy tundra, and wild wilderness. The relatively untouched environment in the arctic means that the nighttime sky is particularly vivid. Bring a telescope, or just look at the stars with your naked eye. Revel in the majesty of the arctic landscape.
Search Results
---
Copyright © 2007- Arctic-Map.com. All rights reserved.
Use the search box on this page to find information about the Arctic region of planet Earth.

Arctic Map - Custom Search Results